Function & Style Meet Here
Bathroom window treatments, unlike bathroom vents, are about much more than function … they're about beauty and style as well.
While you want ones that meet practical needs, you also want to make sure your choice adds to the overall décor of your bathroom.
There are many styles and options to choose from when looking for bathroom window treatments. Whether you have traditional windows, unusual ones or one small window above the toilet, you have some decisions to make. Here's a few tips to help you make the right choice for you and your family.
WINDOW TREATMENT OPTIONS
• Curtains – One beautiful idea that's popular for bathroom windows is curtains. They're easy to install, lightweight, and extremely inexpensive. Curtains will not take up much space and they can be purchased in standard sizes to fit any bathroom window. They're even sold at the big boxes!
 • Draperies – A sophisticated option that looks perfect in an elegant bathroom. Keep in mind that draperies take up space, so they are best used in large bathrooms with large windows. Also, because of the changing temperature and humidity, they tend to look old sooner than other window treatments.
• Shades – Easy to install, effortless to raise and lower and you have many different styles available … from Roman shades to balloon shades to pleated shades to shades that roll up top or bottom! These can be the focal point of the bathroom and are an excellent choice for controlling natural light.
• Blinds – One of the most common window treatments in the bathroom is blinds. They're affordable and versatile, which makes them so popular. For privacy or light control, blinds are a good choice. They can be made of natural fibers, wood, synthetics or metal and be either horizontal or vertical blinds.
• Shutters – A unique option to consider when choosing bathroom window treatments is shutters. They can be inexpensively custom made for your window and give an exciting and unique look. Made to slide on a track or open freely, they're designed to cover all or only part of the window..
• Stained or Privacy Glass – Either stained or privacy glass can be a beautiful and simple choice. Taking zero space, these both add a sense of flair and art to your bathroom. The most expensive of the options, but also the first thing you see walking through the door.
Stained glass can be reminiscent of a time gone by or can be absolutely twenty-first century in color and design. Privacy glass is either frosted, opaque, translucent or, again, twenty-first century high tech which electronically changes from clear to milky or dark with the flip of a switch!
WHAT'S RIGHT FOR YOU?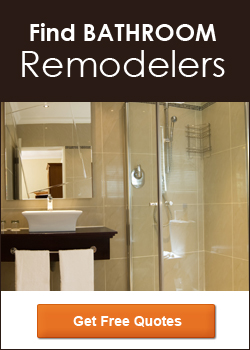 Every different bathroom has it's own completely unique aspects, both positive & negative……when you come to make changes it is very important to consider them in order to get the very best from your bathroom possible!.
• Tip #1 – Consider the Bathroom Environment – Consider your bathroom environment. Bathrooms are, from time to time, somewhat damp and humid, which means you need to select materials that are durable and will stand up to the humidity. Some fabrics could mildew and wooden coverings could warp. Synthetic blinds and shutters here may be best.
• Tip #2 – Keep Your Unique Situation in Mind – Every family and every bathroom is different, so keep your unique situation in mind when choosing bathroom window treatments. Ensure that the treatments you choose are functional, easy to deal with, and meet your unique bathroom needs.
• Tip #3 – Think About Style – Of course, you don't want to forget about style. Get creative with the treatments for your windows. Choose complimentary colors, avoid generic looking treatments, make it reflect youand be sure your choice is something you can live with.
• Tip #4 – Remember Your Privacy – Privacy is so important when choosing bathroom window treatments … especially in a guest bath. While you don't want to eliminate your natural light, you want to make sure that no one can see in. Choose an option that keeps your bathroom private without eliminating the sun!.
What home remodeling or improvements information are you looking for?. Try a local BING search of our site for your answers. The search box is in the right column, just enter your search term & CLICK!.
… for any questions, concerns or problems on a remodeling or landscapingproject, just click the carpenter's pencil above. We'll get back to you within 48 hours with solutions or advice on where to get solutions.
We never charge for help or advice!.
Recommended Reads....
Votes 138
Rating: 4 out of 5