Maple is the most traditional of all wood types used to create and remodel butcherblock countertops. It scores 1450 on the Janka Hardness Scale(a hardness test for hardwoods) and has a soft feel to it.
A butcher block countertop will give your kitchen remodel a look and feel like no other product can.
Following are some of the more popular hardwoods along with their respective hardness ratings according to the Janka hardness scale (the higher the number, the harder the wood):
American Black Cherry (950)
American Black Walnut (1010)
Birch (1260)
Red Oak (1290)
White Oak (1360)
Hard Maple (1450)
Santos Mahogany (2200)
Brazilian Cherry (2345)
Brazilian Teak (3540)
There are two types or styles of butcher block; end grain and edge grain. In end grain, many short (as little as 4 inches) pieces of wood are stacked and glued so that the cut ends of the pieces face upwards. This produces an extremely tough, durable surface, able to withstand repeated blows from large, heavy meat cleavers. The durability and thickness allows it to be resurfaced over and over.
Edge grain is a style in which strips are laid side-by-side with the thick dimension of the planks running up and down and the thin dimension sideways. These planks are glued and put under heavy pressure. Edge grain can be as thin as an inch and a half and as thick as needed for your application. It is not as strong as end grain but is usually less expensive.
Go to the lumber yards and big boxes for a first hand look at the wood types and run your hand along a few. Installation isn't that hard and if you do the whole job yourself, you'll end up with a dynamite kitchen for less than you're probably thinking.
Search butcher block or butcher block counters for ideas, images and what's available using the Bing Custom Search Box over there on the right.
Wood has probably always been used as a cutting surface. Originally called "The Sanitary Meat Block", developed in the 1880s, these were primarily for the meat cutting industry. Butchers had previously cut on tree rounds, or a section of tree trunk, set on legs. Because of its construction and laminating, it was a more sanitary surface.
The "modern" (ie. twentieth century) butcher block was always solid and usually very thick. A young apprentice would buy a single wood block and use it throughout his career! When the block became worn, he planed it down a bit to create a completely new cutting surface.
These became very popular with cooks, chefs and butchers and are still considered food safe for preparation at meat retailers and restaurants.
Private home kitchens all over now have butcher block wood products. The popularity, among the general population over the years rises and falls, but the pros—the people who prepare food for a living—consistently choose hardwood butcher block.
… for any questions, concerns or problems on a remodeling or landscaping project, just click the carpenter's pencil above. We'll get back to you within 48 hours with solutions or advice on where to get solutions.
We never charge for help or advice!.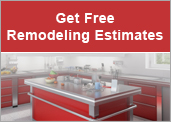 Recommended Reads....
Votes 115
Rating: 5 out of 5