The cost of the remodel is probably the single most important element in the remodel process. But, every remodel is unique, so how can ahomeowner estimate with any accuracy?
Well, here's a nearly fool-proof way to make sure you have enough of whatever and you know what that whatever costs.
First, draw a floor plan. The easiest way to do that is to get a 9×12 pad of graph paper with a 1/4″ or 1/2″ grid (right) or a ruled legal pad. Every space equals a foot, so to draw a ten foot wall, make a line ten spaces long. No straightedge, no ruler.
Just a pad and pencil.
Take your drawing and go talk to someone at a big box, gather prices, make notes, ask if there's anything you might have missed, add it all up and add 50%. There. That's about it. When you finish this sheet you should be pretty comfortable (and accurate) with the cost of your project.
Also, click around this site for ideas on inexpensive ways to do what you have in mind and search your project (ie. replace vanity) online. Maybe you can even do the work in stages. Sometimes, you know, its not thecost that worries us, its not knowing the cost that has us so nervous!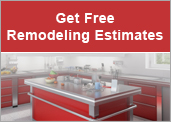 Recommended Reads....
Votes 139
Rating: 4 out of 5