Getting the Project to Meet the Budget
Here are a few kitchen counter ideas that won't break the bank. The idea is to think a little out of the box. One of the easiest ways to create a new countertop is to select a material (solid surface or pre-made laminate) and have it formed into a surface, edge and backsplash. You, then only have to install it.
If you're not into simple solutions or want more control over your kitchencounter ideas and a little more personality in the project, here's what you have to work with; the countertop surface, theedges and the backsplash.
Of course these three can be made of a wide range of materials, be as dissimilar as you direct, and need only to be safe.
This means no leaks, no sharp edges, no sanitary issues and, as always, be code compliant. The easiest and least expensive kitchen counter idea is to use wood. We're not saying butcherblock, we're saying trim and backsplash. Below we've laid out four examples of what you can do with a little wood trim.
In number 1 you can see a simple wood trim, painted black, to match the hardware, surrounding a laminate countertop. Number 2 shows a stained wood trim to a 16″ tile surface and 3″ x 12″ tile backsplash. The wood is stained to exactly match the cabinets in number 3 and the wood is painted white in number 4. If you're thinking about replacing the cabinets, why not simply paint them and match the color with a painted backsplash and trim. Let's see, a few sticks of molding and a gallon of paint. Hmm …
And who says backsplashes have to stop at three or four inches? Why not go up to the cabinets or, should I dream it, the ceiling? Of course. Your kitchen counter ideas could be about faux stone mixed with 2″ tiles (image 1) or 6″ tile inset with 2″ tile that brings out the color (in this case black) of the countertop? An edgy "industrial" effect is created (image 3) with stainless steel backsplash, grey solid surface (we think a light butcherblock countertop would do as well) and stainless appliances. Number 4 shows what you can do when you get in on a sale. Note the floor and backsplash wall is the same 12″ ceramic tile. The black "frame" is ceramic tile to coordinate with the countertop.
Here's a few final considerations: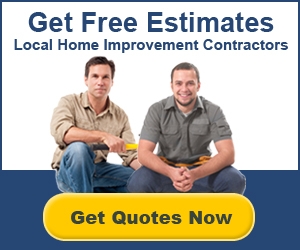 • Why are you doing this? Are your kitchen counter ideas just the countertops or do you ultimately plan to redo the whole kitchen? Do you plan to live there or are you remodeling to sell?
• When combining a wood (butcherblock) countertop section with other materials, be conscious of the upkeep. Some other materials need to be cleaned with a special cleaning product that could damage wood.
• When introducing different materials – or even color changes in the same material – decide early on how the two materials will intersect or meet one another.
• Do the different materials have different types of support requirements? Butcherblock might easily hang over an eating bar, but a solid surface, stone or other materials may need brackets.
• Decide where the electrical outlets and switches will go. The easiest thing to do, obviously, is to design around the plates. Maybe move a few electrical boxes to the end of the counters, if code allows.
• If cost is the prime consideration, make a list of ALL materials and tools you'll need to buy and rent. Add it up and add 50%.
• If time is the most important element — and you haven't done this sort of thing before — get in your car, go the closest "Big Box" and start talking to people.
• And, lastly, how adventurous are you?
… for any questions, concerns or problems on a remodeling or landscaping project, just click the carpenter's pencil above. We'll get back to you within 48 hours with solutions or advice on where to get solutions.
We never charge for help or advice!.
Recommended Reads....
Votes 65
Rating: 4 out of 5