KITCHEN ISLANDS IDEAS 
FOR SAVING MONEY
Kitchen islands Ideas are floating around everywhere … in magazines, on TV and on the web. Because your kitchen is the center of your home and the hub for your life at home. You entertain, cook, eat and you maybe even read your mail, pay bills and surf the internet there!
Well, if you don't have an island, and your kitchen is larger than 8′ x 12′ you should consider building one.
If you have the skills and/or the money, you might think about making it afunctioning island too, meaning, build in a sink, oven or a range top while you're at it. After all, the kitchen island is the meeting place for so many events. The image below shows the two sides of the island; the living sideand the kitchen side. Notice the different functions of each side and the scope of possibilities this allows.
Of course, the drawing above is just a suggestion, and your kitchen islands ideas and construction depends on several things. Before you commit to paper, and especially to serious design, discuss with your family just how you all actually use your kitchen. Islands ideas, photos and entire websites devoted to this are all over the place, but once the island is in, its "in." And your kitchen is changed forever. So, be absolutely sure its the size, shape and in the best position it can be for the space and your family.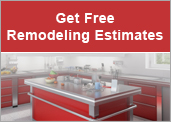 Note: If you need a little help on things like plumbing, electrical, countertops or lighting, click the image (left) to get up to four no-obligation quotes from local contractors.
These are pre-screened, licensed professionals in your area who are fast, competent and guarantee their services.
Whether or not you end up doing the entire job yourself, you should make a "blueprint" of what's there now. This will be your kitchen islands ideas generator. With a legal pad or graph paper, a pencil and a tape measure, start by measuring the walls and, if its open on one side, that space as well.
You should end up with some sort of box. Next, draw the countertops (length and depths – Dwg. 1 below). Its not necessary to draw cabinets or windows, unless that helps locating the sink, range, etc, and write in as many dimensions as you can.
Make copies of this layout before you draw in any of your kitchen islandsideas so they won't seem precious to you and you'll be freer to "make mistakes" and pitch 'em if another idea pops up. Graph paper comes in handy here because you can simply count the squares for measurements. Of all the kitchen islands, ideas, designs and drawings, a 48″ (+/-) x 24″ (+/-) seemed to work best (copy).
I added a 2'x2′ extension to the countertop (dotted lines) just for fun, but it might be a good idea if this island replaces a breakfast nook. More storage, a place to gather, another nice working surface and maybe bistro seating for two or three.
Click on any of the links below for more ideas and tips on things you can do to remodel and decorate your kitchen … and if you have any kitchen islands ideas or tips, please send them here!
OUTRAGEOUSLY CHEAP KITCHEN ISLAND
Recommended Reads....
Votes 127
Rating: 5 out of 5