LOG HOME KITCHENS
AREN'T JUST FOR LOG HOMES ANYMORE!
Log home kitchens are rising in popularity and are finding a "home" in today's lifestyles. They're found in newer homes, remodeled homes, second homes and even, well, log homes!
Since the kitchen is the heart of the home, many are turning to the rustic charm of log home kitchens. Whether you're building a new home or remodeling an existing one, this style can give your home a cozy, rustic charm regardless of what your home looks like on the outside.
These rustically styled kitchens can be installed in homes of any shape, size, or style. If you've been hankerin' for one of these styles of kitchens and are finally ready to take the plunge, here are some simple suggestions.
Tips For Log Home Kitchens
• Pay particular attention to the style of cabinets, as well as the tone you choose. Unlike other elements, the cabinets are probably the first thing one sees coming in and therefore, really sets the mood.
To achieve more of a rustic theme, you'll want to opt for cabinets that are made of a medium to dark stained pine, oak, cedar or similar. Also, look for simple square panel or square panel beaded cabinet doors. A more upscale version is a half-round panel door, adding a "log" feeling. See cabinet door fronts.
• Don't assume that "rustic" means cooking dinner over an open flame. While these kitchens should give you the feeling of living in the mountains, the residential safety codes will soon bring you back to the flatlands.
• Don't think you must go without the high tech appliances that you've come to love. Many appliance manufacturers offer buyers the option to add wood or other faux panels to the front of most appliances and colors that are reminiscent of days gone by. This gives you the ability to have the high end refrigerator of your dreams or even that dishwasher that you just can't live without while still keeping the rustic old charm of your new kitchen.
• And while we're on the subject of technology, why not have a drop-down flat panel TV and CD/DVD player? If you feel guilty, play reruns of Gunsmoke or listen to Bluegrass on those new devices!
• Wrought iron elements, such as cabinet pulls and spice racks, have that rustic feel, and stainless steel storage containers, like canisters and bread boxes only add to the ambiance.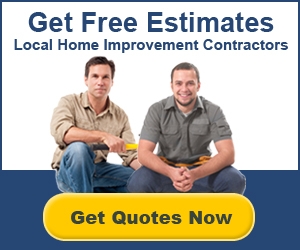 • Sinks and fawcets come in many styles that visually recreate a farmhouse feel, while offering new, green materials and flow rates that make sense for today. There's a lot out there.
• Rolling butcher blocks, carving boards made of stone or wood and butcher block countertops can add functionality and ambience to the natural feel of the log home kitchen.
• Besides butcher block, there are several other choices for your countertops. Travertine, solid surface, stone and even cement are available with surfaces and colors to excite your frontier spirit! Green countertops, made of recycled materials are not only wise choices, but many look like they came right off the wild prairie.
• Backsplashes allow you to add even more style. There are glass mosaic tiles in greens and browns, river rock and—here's something you may not have thought of—a tin backsplash (right), which would absolutely bring a rustic appeal.
• The floor should probably at least look like wood, and if you don't want the expense and mess of hardwood, look into laminate flooring. Its extremely durable, easy to clean, warm (no kidding) and comes in a wide, wide range of styles. There's even flooring that looks like its been abused.
Log home kitchens are not for the Hatfields and McCoys anymore! In fact you can pay more to have this look than a standard "modern" kitchen. But take your time, do your research and stay open to ideas. There is more available to you now than ever before! Search log home kitchen or design cabin Kitchen using the Bing Custom Search Box right -> for starters.
… for any questions, concerns or problems on a remodeling or landscaping project, just click the carpenter's pencil above. We'll get back to you within 48 hours with solutions or advice on where to get solutions.
We never charge for help or advice!
Recommended Reads....
Votes 65
Rating: 4 out of 5