To Compliment Your Outdoor Kitchen
Low voltage lighting fixtures are an excellent option for outdoor deck and outdoor kitchen lighting. These fixtures are becoming popular because of all the benefits they have to offer. Whether you're looking for post lights, recessed lighting, or even outdoor rope lighting, low voltage options are an excellent choice for your backyard kitchen. Since these fixtures can be installed by homeowners, they provide the ability to really get creative with your lighting!
What is Low Voltage Lighting?
Before choosing one of these fixtures, it's important to understand how this type of lighting works. The lights in your home generally are calledstandard house lighting.
The low voltage lights usemuch lower current and voltage, generally 9 to 12VDC, (Volts, Direct Current") than standard 120VAC (Volts, Alternating Current) of standard lights.
Step-down transformers convert the standard household 120VAC into this lower voltage. This provides the bright lighting you need while using voltage that is significantly lower. See electrical definitions for more information.
Pros and Cons:
While installation requires some simple wiring, its an easy do-it-yourself project and there's no need to pay a pro or get a building permit. Low voltage lighting fixtures out perform many solar powered options in brightness and are a great lighting choice for the environment. Finally, these lights are safe, as the voltage is similar to many battery operated toys.
 Although the benefits definitely outweigh the disadvantages, there are a couple of negatives to keep in mind. Since wiring is required, moving the lights can be a little difficult, depending on how they were installed. Another downside is that many of these lights are not bright enough to light up large areas. You may have to install several to achieve the results you desire.
Available Fixtures:
With all the fixtures available, its easy to get creative with the lighting for backyard kitchens. Not only is there a wide variety of styles available, but they also come in a wide range of materials, colors, and functions. Wall lights and sconces are options, which can be easily mounted on exterior walls and these come in direct and indirect options, as well.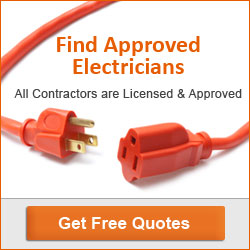 Railing lights can be installed on top of deck railings and recessed lighting fixtures can be installed in various areas, such as under roof eaves, to add more ambient light.
Outdoor rope lighting provides an excellent option for installation around walls, along counters, or even twisted around railings.
Low voltage lighting fixtures are available for walkways, paths and gardens too. And, consider mixing these with solar power outdoor lighting fixtures. Search outdoor low voltage lighting using the Bing Custom Search Box over there on the right and get creative!.
… for any questions, concerns or problems on a remodeling or landscaping project, just click the carpenter's pencil above. We'll get back to you within 48 hours with solutions or advice on where to get solutions.
We never charge for help or advice!.

Recommended Reads....
Votes 88
Rating: 4 out of 5