A DIFFERENT KIND OF BUILDING MATERIAL
A DIFFERENT KIND OF BOARD! 
MDF stands for Medium Density Fiberboard and is created by breaking down soft woods into fibers and mixing the fibers with wax and resin. The panels are formed by pressing the mixture into panels with pressure and temperature. Its smooth surface texture and lack of internal grain structure it can be machined in all directions.
This material can be used as a building material, door panel or trim moulding. Large-scale production began in the 1980s and is now made in many different types, including moisture resistant, fire retardant, low density, insect and fungi resistant,exterior grade and molded. Lighter densities of fiberboard are commonly marketed as ultralight or LDF (low density fiberboard).
You probably have this material in your home right now and may not even know it. Its easy to work with, pliable and can be made into a zillion things.

It's an extremely versatile material and is perfect for a whole host of remodeling applications;
* Cabinet doors and drawer fronts
* Furniture
* Internal cabinet boxes
* Display cabinets
* Exhibitions
* Lettering & Logos
* Exterior signage
* Exterior cladding
* Boxes and casework
It's often used in school projects because of its flexibility and in speaker enclosures, because of its weight and rigidity over normal plywood.
Pros & Cons of Medium Density Fiberboard
• Shapes well, is flexible for curved walls and surfaces
• Excellent substrate for veneers
• Becoming environmentally friendly
• Some varieties are less expensive than many natural woods
• Isotropic (no grain), cuts well
• Consistent in strength and size
• Dulls blades more quickly than many woods
• Screwing into the edge of a board may cause it to split
• Heavier than plywood or chipboard
• Swells and breaks when waterlogged
• May warp or expand if not sealed
• Contains formaldehyde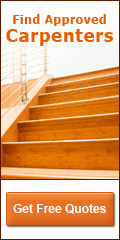 Formaldehyde resins are commonly used to bind MDF together, and testing has consistently revealed that these products emit formaldehyde and other volatile organic compounds that pose health risks at sufficient concentrations, for at least several months after manufacture.
Whether these chronic emissions reach harmful levels in real-world environments is not yet fully determined. As manufacturers are being pressured to come up with greener products, they have started testing and using non-toxic binders. New raw materials are also being introduced. Straw and bamboo are becoming popular fibers because they are a fast growing renewable resource.
What home remodeling or improvements information are you looking for?. Try a local BING search of our site for your answers. The search box is in the right column, just enter your search term & CLICK!.
… for any questions, concerns or problems on a remodeling or landscaping project, just click the carpenter's pencil above. We'll get back to you within 48 hours with solutions or advice on where to get solutions.
We never charge for help or advice!.

Recommended Reads....
Votes 96
Rating: 5 out of 5