Measuring kitchen cabinets is easier than it sounds. If you're simply replacing your old cabinet doors, its easier still. Just measure those. If, however, you're replacing the doors with another style or type … well,that's another matter. There are three types of doors; partial inset (sometimes called lipped inset), overlay and full inset.
Notice the frames are the same no matter which style or type of kitchen cabinet door front you have. You may have to fill in the screw holes and sand a little, however, if you use a different type of door, hinge, hardware or closure, but the frame itself will not change.
NOTE: You should be measuring kitchen cabinets to the closest 1/16″under. In other words, it's better to be slightly under than over.
A great way to record the measurements is to sketch the layout first. Use ruled legalpaper or blue line graph paper.
Do one wall at a time, using a soft pencil (number 2 or a carpenter's pencil) is the most efficient. Draw slow. Don't "hack" away or "sketch" using short fast lines. Remember, you're going to write and draw all over this sheet before you're done and then you're going to throw it away.
Your drawing doesn't have to be "to scale", it just has to convey the exact information you need to do the job. And draw large enough to actually read the drawing.
If you draw on blue-line graph paper you won't need a ruler or any plastic guide to be accurate, though. Simply make the squares be one foot (or 6″ or whatever), count them and draw freehand.
Several of your doors will have the same dimensions so list them all in groups when you order or buy, like: 6-18×28, 4-16×24 and so on.
And always write the horizontal dimension FIRST, then the vertical, like this: 14″ x 32″. Salespeople, contractors and manufacturers see this as being a cabinet door that's fourteen inches wide by thirty two inches tall. Its universal.
Keep these notes and groups on the same sheet you made the drawing so that when you talk to a salesperson you'll have everything on one sheet.
Finally, its a good idea, if you plan to remodel the rest of your kitchen, to make an overall drawing showing the Work Triangle, which is an area defined by your refrigerator, the range and sink.
What home remodeling or improvements information are you looking for?. Try a local BING search of our site for your answers. The search box is in the right column, just enter your search term & CLICK!.
… for any questions, concerns or problems on a remodeling or landscaping project, just click the carpenter's pencil above. We'll get back to you within 48 hours with solutions or advice on where to get solutions.
We never charge for help or advice!.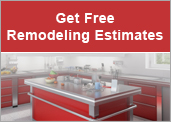 Recommended Reads....
Votes 80
Rating: 4 out of 5