3 Plans • 2 Cars • 1 Strategy
Remodel garage plans may be a good strategy to consider if you now have a one car garage and you are planning on selling your home.
Potential home buyers usually want to see houses that have space for their "next-most" expensive things … their vehicles. And most home buyers today have two.
To increase your vehicle storage space, you have several options for garage remodels. Here are a few ideas to consider so you (and your buyer) have room for two vehicles.
As always, talk to a real estate agent about your specific neighborhood to make sure it will be worth your time and money.
A Tandem Garage
A tandem remodel garage option is simply adding on to the back of the garage allowing two cars to park bumper to bumper, one behind the other. The downside is that one car will eventually get "trapped" behind the other. You'll have an extra workshop or storage space, however, with this remodel, if you (or the new buyer) choose to park only one car inside.
Tandem garages don't appeal to everybody, but generally will be seen as better than a single car unit. And, if you can put a second garage door in back with a driveway to the street or alley, you've solved most objections.Search tandem garage or tandem garage add on for more info and plans, using the Bing Custom Search Box.
Adding a Carport
Another of the options to consider is adding a carport to your garage. It's relatively easy, which makes it one of the better garage remodels to consider. Your carport remodel, garage preparation (if any) and extended driveway (cement, blacktop or gravel) could be accomplished by two people in a weekend or two. Laying the foundation is the most expensive part. You'll have to build a frame and have it poured. Search add carportand carport foundation.
Frame the carport using one wall of the garage for support. Carports have no walls, but the two supporting posts could be made to match details of your home's exterior. Shingles, of course should match the home's, or the garage's if different than your house.
Adding a Second Bay
Finally, you can add a second bay. This is the most complicated and expensive remodel. Garage and driveway are involved, including removal of a side wall, existing framework and possibly the roof. Its a big project. If, after talking with a real estate agent, you believe your remodel garage plans will add enough to justify the expense, start researching!
A profit of five or ten grand may even be worth taking a 2 week "working" vacation for. Talk a friend into helping. There are lots of plans on the internet for $20 and up (some even free) that can be altered to fit your situation and your home's design. Search garage addition plans.
You'll need a building permit to construct any of these three, but the agents at the building department will help in regard to weight loads and materials. An aggressive project, to be sure, but one that may have profitable results.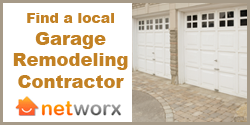 If you think the profit is there using the help of a professional, there is no safer or better way to find one than than to click the image (left). Supported bynetworx, one of America's most trusted service providers, these contractors are licensed, bonded, insured and promise to give you the best value and guaranteed fast work. When you click the image you'll be asked for your zip code and you can explain what you have in mind. You'll then receive up to 4 free quotes from professionals in your area.
Whether you'll be doing all the work, most of the work, some of the work or watching someone else do the work, do your homework. If yours is the only home for five miles with a single car garage and you are about to put this home on the market, you'd be smart to consider this project. 
… for any questions, concerns or problems on a remodeling or landscaping project, just click the carpenter's pencil above. We'll get back to you within 48 hours with solutions or advice on where to get solutions.
We never charge for help or advice!.
Recommended Reads....
Votes 74
Rating: 4 out of 5