Adjusting the Cost Basis of Your Home
Most home improvements are not tax deductible, but can be used to offset taxable gain on the sale of your home. The IRS defines an improvement as something that prolongs the life of your home, increases its value, or adapts your home to new uses. Finishing your basement, upgrading your kitchen, or fencing your yard generally qualify as home improvements. The costs of these modifications, including materials, labor, and any expenses such as survey or permit fees, are added to the cost basis of your home.
http://media.photobucket.com/user/thecarssite/media/home.jpg.html
Repairs to your home are not eligible to be included in your cost basis, and there is no tax deduction for home repairs. Repairs keep your home in normal condition and do not add value to your home or prolong its life. Repainting your home's interior or exterior, fixing the roof, or replacing broken windows are considered home repairs. Painting that is part of an addition or substantial renovation, however, would qualify as a home improvement.
Energy Efficiency and Green Credits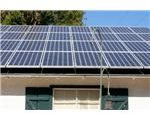 Recommended Reads....
Votes 111
Rating: 5 out of 5